French Doors and Installation in Nashville and Nearby in Tennessee
Create a beautiful entry with new French doors in your home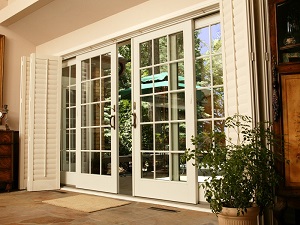 French doors are a great way to provide natural light and an eye-catching entrance.
French doors are a popular addition for many homeowners because they provide beauty, natural light, and great space in an entrance. At Renewal By Andersen Nashville, we specialize in quality French door installation for both interior and exterior doorways. Our professionals will help you get a custom solution that gives your home the unique look you want.
If you're looking for a touch of elegance and energy efficiency to your home, call us today at 1-844-210-0574 or contact us online for a free estimate on French door installation. Andersen French doors combine the traditional, detailed beauty of this old world door style with the advanced materials of an industry leader. We install quality French doors in Nashville, Brentwood, Franklin and throughout the surrounding areas.
Our French door options
French doors consist of two door panels, designed to swing both inward and outward. Each door features several small glass panels and an often intricate door handle. Working with our experienced design consultants, you will be able to choose both interior and exteriors colors and customize the size of your French doors to fit your home's spatial constraints. We offer two distinct varieties of French doors:
Andersen Hinged French Doors: This take on a traditional French patio door is designed to swing both inward and outward for easy access to your exterior patio and increased energy efficiency.
Andersen Gliding French Doors: his sliding French patio door combines the traditional styling of French doors with the space- saving convenience of a sliding patio door — adding a beautiful touch to your home.
Both styles of Andersen French doors utilize their exclusive Permashield® material, which never requires painting and will not crack, pit, corrode, or rot. In a unique fabrication process, the color of your French doors will be blended with the Permashield® material in order to ensure lasting beauty.
Choose quality French door installation for your home
Andersen products and patents have revolutionized the window and door industry for more than 110 years, changing the home construction industry, how homes are designed, and even how we live our lives. Their French doors are a perfect example of how they have blended together classic style with modern materials.
To learn more about Andersen French doors, call Renewal By Andersen Nashville today and request a free estimate on replacement door installation for your home. We offer all our door installation services in Nashville, Brentwood, Franklin, Murfreesboro, Cookeville, Hendersonville, Columbia, Clarksville, Antioch, Madison and throughout the surrounding areas.
Looking for a price? Get a no cost, no obligation free estimate.